Description: Artificial Decorative Fruits Spray Apple
Item No: Lpn4597/63
Color: Yellow-red/ Customized
Material: Foam
Packing: 24/144/68x35x68cm
Size: Total Length 68cm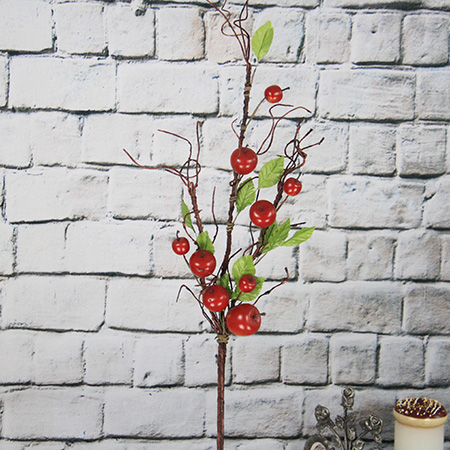 Regular Artificial Decorative Fruits are produced using styrofoam (foam) material, PU material, and resin material, all of which are solid. Suitable for offices, home decoration, model houses, exhibition halls, hotels, bars, coffee houses, fashion stores, etc. Simulated fruit instead of real fruit is used in some occasions where the fruit needs to be displayed to obtain visual effects. The simulated fruit overcomes some shortcomings of the mildew of the true fruit, and can be used for a lifetime without distorting.
Artificial Decorative Fruits Spray Apple is also popular among consumers because it is beautifully crafted and can be used as a beautiful decorative item. One, compared with real fruit, the simulated fruit product is not subject to temperature and time constraints. If it is dirty, it can be refreshed with only a little water, so it can be placed for a long time. Second, the artificial fruit crafts are used to decorate and decorate the living room, which can give people a warm feeling. For example, putting the simulated apple into a sealed water bottle is very beautiful. It is a beautiful landscape on the dining table. It can be used to send a new friend to a new house. For the Chinese, the meaning of sending apples is safe. Good luck. In addition, if you combine the simulation fruits of many varieties and make full use of your creativity, you can also make all kinds of artworks and mascots, such as hotels and restaurants, or set up business environments. The atmosphere has long been a popular trend.
Company Information:
Yantai Lepin Trading Co.,Ltd. is a professional enterprise specializing in the design, development, production and sales of high-grade artificial flowers and artificial fruits. It has over 20 years of rich production experience.
All along, we have to market information as the basis, carefully refer to the views of customers, and constantly develop cheap and best-selling products, innovative varieties, forming a unique style of flowers. There are thousands different style samples. We have following series: pots, bouquets, single branches, wreaths, candle rings, Christmas items, wedding items etc. The main market our company are Europe , The United States, the Middle East, Southeast Asia and other countries and regions. We get the trust from the customers all over the world.
We hope we can make a better future together all the customers and friends.
FAQ:
1. What is your payment way?
1) Regular payment way - 30/70
2) LC at sight.
2.Which currencies are acceptable to you?
Usually is USD,RMB.
3. Is there any stock for immediate delivery?
As usual we do not have any stock.
4.Do you offer discounts to the trade? What discounts do you offer?
A. We offer a couple discount pricing programs that are volume driven and benefit all our customers.
Discounts by the quantities you ordered. Big order with more discount.
5. We need some high quality pictures for our catalogue, can you supply us the pictures of the items we ordered?
Yes, it's no problem.