Item No: Lpn18029
Color: Red-green/ Customized
Material: Foam
Packing: 24/144/65x38x44cm
Size: Total Length 50 Cm
Description: 50cm Artificial Decorative Spray/pick With Red Berry/pomegranate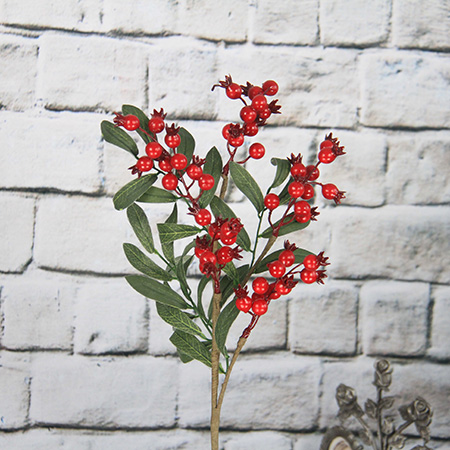 Artificial Decorative Red pomegranate product use: birthday flowers, love flowers, condolence flowers, holiday flowers and other accessories, can be used for tourism wreath head ornaments, Christmas items and other diy products!
With the continuous development of the industry, the advancement of technology, the development of artificial plants, fresh-keeping plants and the enhancement of artistic re-processing, more artificial plants will interpret the perfect harmony between man and nature. Through the unremitting efforts and pursuit of practitioners, and with the concept and attitude of "quality, innovation, quality, service", the simulation plant industry will win a more perfect and rapid development space.
As the demands of the various sectors of society continue to improve, the industry is constantly exploring, in order to meet our customers' needs with our achievements. Especially for the research and development of fresh-keeping plants, many investors have invested a lot of manpower, material resources and financial resources. The products are characterized by many varieties, low prices, strong plasticity, good reductiveness, long use time and easy installation. It has been spread all over the country in high-star hotels, large shopping malls, high-level clubs, high-end office buildings and places with relative space and environment. Rockery fountains, small bridges, island coconuts, and woods, these can only be in the exotic or outdoor fields. We can also fully reflect in the environment you want.