Item No: Lpn18028

Color: Red/ Customized
Material: Foam
Packing: 24/144/65x38x44cm
Size: Total Length 52 Cm
Description: 52cm Artificial Decorative Spray /pick With Red Berry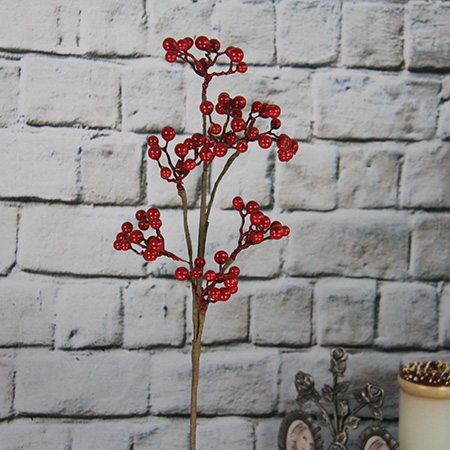 Artificial Flowers are artificial flowers made of paper, silk, silk, velvet, grass, plastic, polyester, etc. Mainly produced in Jinzhou, Liaoning, Tianmen, Hubei and other places. Polyester flower is a new variety developed after 1970, mainly produced in Shanghai and Quanzhou, Fujian. Later, artificial flowers were transmitted to Beijing, Tianjin and other places, and they were vigorously promoted.
Artificial Decorative Flowers: Mainly scented flowers, weed flowers, polyester flowers, as well as paper flowers, feather flowers, velvet flowers, plastic flowers, etc. Among them, silk flowers, weed flowers and polyester flowers are more famous varieties.
绢花: The main raw material is 绢, followed by silk, satin, enamel, Luo, georgette and polyester silk. The silk flower making process is to first sizing the selected silk fabric to make it flat and have a certain hardness; then, using a model chisel made of iron, chiseling various petals and leaves on the silk fabric, and dyeing; A kind of heated iron nest, nested into various concave and convex shapes, and dried; finally, the petals, leaves, etc. are stringed into a silk flower with a wire. There are flower arrangements, boutonniere, flower heads, potted flowers, drama flowers, banquet wine glasses, wedding dress flowers, etc. Since 1970, new varieties such as waterproof, easy-to-wash scented flowers and birthday candles on the candlestick have been added. Chinese silk flowers are traditional export crafts. In Japan, Chinese birthday candle flowers are often used as gifts to celebrate the birthday of their parents.